You need strategic IT advice to address your technology challenges and ensure IT operations align with your business goals. TaylorWorks goes beyond reliable IT support with our vCIO services, offered with our Managed IT Services. This one-on-one, personalized customer relationship with your dedicated vCIO is designed to bring expert guidance across your IT environment and help develop your short and long-term objectives. Count on us to help align your technology needs with budgeting your IT infrastructure to maximize your technical resources and IT management.
Our mission is to consistently provide world class technical support and strategic planning to our clients which improves their businesses' productivity, profitability and reduces their risk in a way that promotes the core values of our organization. This is the unique vision we have for our clients and the process to deliver the results they need.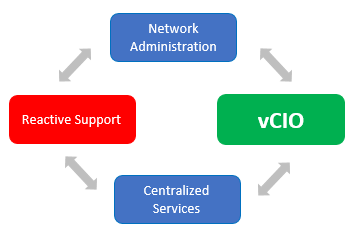 Virtual Chief Information Officer
Business Impact on Technology Decisions
Long & Short Term Strategic Planning
Technology Consulting & Budgeting
Customer Relationship Management.
What Results Will Your Company See With a Dedicated vCIO?
Many SMBs want to leverage technology, but lack the necessary expertise to do so. The vCIO provides strategic technology planning services that help leverage IT assets to save time and money. By planning forward with the guided technical expertise of a vCIO, you can expect:
Affordable and Strategic IT Consulting. With emerging IT trends and applications available continuously, having the insight on technology decisions and services from a vCIO can help your business align with IT trends to streamline your business productivity.
Business Continuity and Effective Disaster Recovery Planning. With a reliable vCIO on hand, you can ensure your business is prepared for future and unforeseen challenges that may emerge
Optimal IT Solutions. A vCIO is dedicated to understand your business at a deep level as to help make the right technology decisions and recommendations for you
Customer Relationship Management. Technology is an undeniable part of how your business and customers interact – with the right technology guidance from a dedicated vCIO, you can ensure more productive and growth in business relationships.
Your vCIO will help identify misaligned technology practices and explain the business impact it can have on your business and customers. Contact us today for more information about partnering with a vCIO.